De wereld een beetje mooier maken
Inspireren om na te denken over het leven van alledag
Dromen durven najagen
Oog hebben voor de kleine dingen in het leven en in de wereld
Zomaar enkele redenen waarom ik mijn werk graag wil delen.
Maar wat veel belangrijker is, is wat jij ervan vindt. Zoals Edgar Degas al aangaf:
"Art is not what you see, but what you make others see"
Naast het originele schilderij is er ook de mogelijkheid om de afbeelding te laten drukken op (hoog kwaliteit) papier, hexagons, ronde platen/borden, plexiglas, noem maar op. Ik denk graag met je mee in mogelijkheden. Afhankelijk van het materiaal zal er ook verschil in prijs zijn.
Heb je eigen ideëen of wensen voor een schilderij (denk aan bepaalde kleuren of kleurcombinaties, een bepaald onderwerp of een woord/tekst), dan kijk ik graag samen met jou wat de mogelijkheden zijn. In overleg kijken we op welke manier we jouw wensen vorm kunnen geven in een schilderij dat voor jou Meesterlijk mooi is!
"Art speaks where words
are unable to explain"
Mathiole
Staat hieronder iets tussen dat je aanspreekt?
Neem gerust contact op voor de mogelijkheden!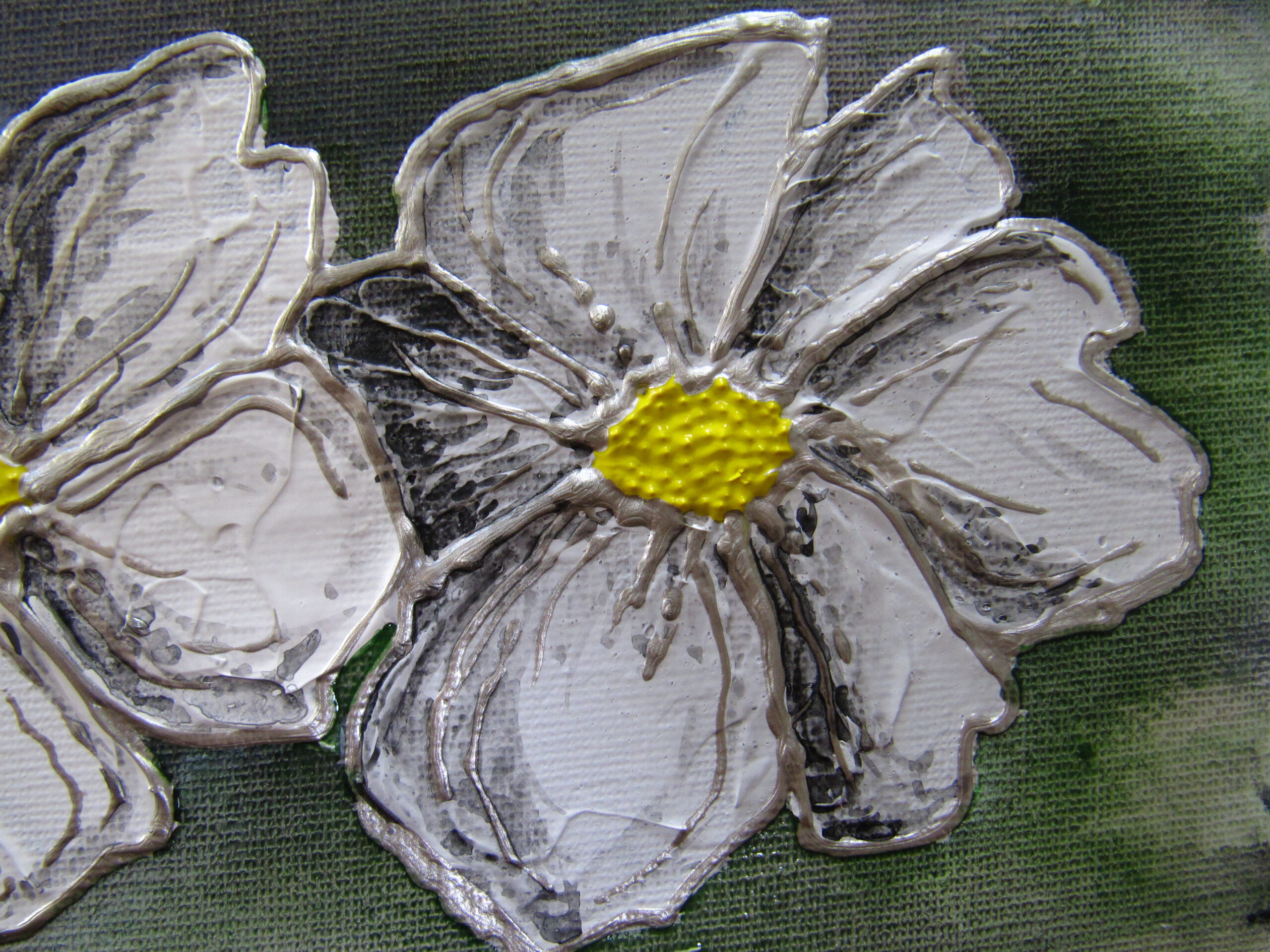 Zilveren bloem / Acrylverf op canvas, 2021 / 20 x 20 cm
Lees meer
Contact
Zie je iets dat je graag aan jouw muur wilt hebben, in je huis, je werkplek of je bedrijf? Of  iets dat je graag kado wilt geven? 
Heb je eigen wensen of ideeën die je graag verwerkt ziet in een schilderij?
Neem dan gerust contact op om de mogelijkheden te bespreken.
Wil op de hoogte blijven al mijn nieuwe kunstwerken?
Volg me dan op Instagram
Stuur hier je bericht, vraag of wens:
Het sommetje is om zeker te weten dat je geen robot bent.